FUNERAL MASS OF JEAN-DENIS TREMBLAY, P.M.É.

Homily by Jean-Yves Isabel, p.m.é., Laval, Saturday July 20, 2019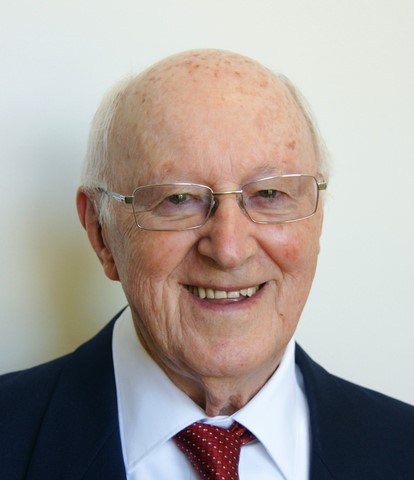 Acts 13, 2-5
Matt. 24, 43-47.4

I was asked to say a few words. «You know him well». Yes, I know him. We have worked often together and since a few years, our rooms were face to face. At any moment, Jean-Denis would knock at my door and would say to me: «there is a message on my answering machine, but I do not understand a thing». I would tell him what was the message about. And since I am half blind, I cannot read more especially when it is hand written, and so when I would receive a postcard, I would ask Jean-Denis to read to me «what was written». He would do it. We helped one another. Being two, it was like being one normal person.

Of course, Jean-Denis did not give us much time to prepare ourselves for his departure. It is a shock for everyone, especially for us who were present here. We had not, really had not thought that in a few minutes, a few hours, Jean-Denis would not be with us anymore. It is a shock, but at the same time, everybody is saying: «He is a lucky one». He did not suffer. We were told that he would have a massive heart attack. I am a bit jealous. What a great death! He really earned it.

The people I have met with since his passing away all agree: «What a good fellow, always joyful, always kind, always smiling!». Everybody loved him. And this is the Jean-Denis whom God has recall to Himself.

I would like to go back to some passages of the texts we have listened to. In the first reading, we speak about the Holy Spirit who, during a meeting of the community in Antioch, tells the people who were at prayer: «Set apart for me Barnabas and Saul for the work to which I have called them». And so, what do we do in the presence of the Holy Spirit? We say yes. Then completing their fasting and prayer, they laid hands on them and sent them off.

Jean-Denis also received a call. I do not know if you were aware that Jean-Denis had composed a short text of one page and a half: «The story of my vocation». I read it. He says that he always wanted to become a priest, and that his missionary vocation developed within his family: « There were many religious sisters and priests in my family: aunts, uncles, cousins; they are the ones who nourished my vocation». He never had any doubts about being called to the priesthood, and like Saint Paul, to become a missionary.

Saint Paul, I do not know if you know him well. He travelled a lot. First, in the reading we just heard, he left immediately. He went to Seleucia, took the boat and went to Cyprus, and then came back to Salamis. «Travel, travel, travel». All that to preach the Word of God.

I think I will bring in some malice, not too much, but just a little. Jean-Denis also love to travel. The communities with whom he lived and accompanied, he never forgot them. Jean-Denis would go back to visit the people to encourage them. And when he came back here to stay, he often went to Hong Kong to visit the group "Evangelization family", to support them and help them. That gave him also courage. I thought that was good on his part. I believe that he realized himself on those trips.


Earlier, I met with people from Toronto, a family in particular, people whom Jean-Denis used to visit at least once a year. He was welcomed by them and visited the community. They would celebrate and pray together. He loved to go to people, to those he knew. He wanted to keep connections with them. Jean-Denis had many, many friends.

In the second reading, we speak about a servant: «Happy the servant whom the master has put in charge of his household». Jean-Denis was a servant, a person of service, a man of service. Very often, he would say: «You know, me and long discourses…to prepare big events, I am not very good at that; I am not an intellectual». In fact, he was not the greatest intellectual in the Society. But «to render service through example, that's me. I love to render service». At any moment, he would ask me, «is there anything I can do? If there are any needs, I would be happy to help». I will not go into detail about all the services that he rendered to us, but we his confreres, we know to what extent Jean-Denis was always ready to render service, that was his «trade mark», his commercial trade: service. That's it. He rendered services: take care of the lawn and the land gather branches, make sure that the grounds were well taken care of. Every morning, he worked one hour and another hour in the afternoon. And earlier as Martin (Laliberté) mentioned, on the day of his passing away, he celebrated mass at 8h30 at the Missionaries of the Imm. Conception. At 9h15, he changed clothes and went to work outside as he used to do every morning. And it is while working, doing what he loved, the service he wanted to render to us, that God called him back. He had his heart attack and that is what took him away immediately.

The same passage of the Gospel tells us: «Happy the servant who will be faithful and prudent, since we never know when the master will come back». For us also, that means that God will come to fetch us, but we do not know neither the time nor the day. There are, and I know many of them who are sick, bedridden, who are weak and who are anxious for their hour to come, that the Lord come to take them away. Jean-Denis did not at all leave us physically, a few days ago. The Lord called him back. For me and for us, who are next to him, there is no doubt that Jean-Denis was ready.

He celebrated the Eucharist at the Sisters. Often, he had his time for meditation and adoration. We have a small chapel here for adoration. Jean-Denis was there every day. He had his time for reflexion, for the preparation of the Word of God. He was always ready to celebrate the Eucharist. Every morning at 6h00, he went for his walk and prayed the rosary. Jean-Denis had developed a knowledge which helped him to well understand the Word and explain it to the communities he visited. He was a joyful saint ant that is the Jean-Denis who left us. We are sad, but we are happy. We are sad because we will not see him and we will not share with us stories that you all know, you his family. They were the same stories that he shared with us. But those stories are not anymore. And for us as well as for you, we have the certitude that Jean-Denis is with the Father, with the Spirit who called him, maybe 80 years ago and who is now in the Kingdom with his parents.

This was not planned, but I would like to end with a story concerning his father. «My father was a photographer, that is why I am well developed». And so, he went back to his father, his mother, with God and all the blessed. Jean-Denis, we wish to thank you for who you were for us, what you have given to us. And it is with pleasure that during this celebration we let you go to your final destination, that we let you go towards the happiness of the Kingdom.


Histoire de ma vocation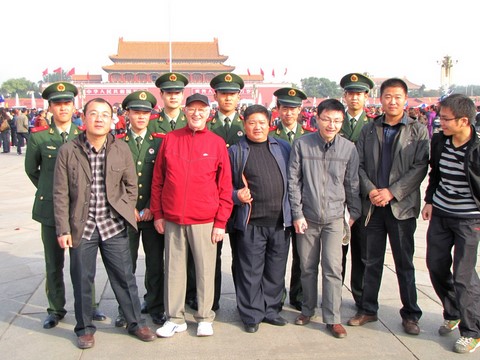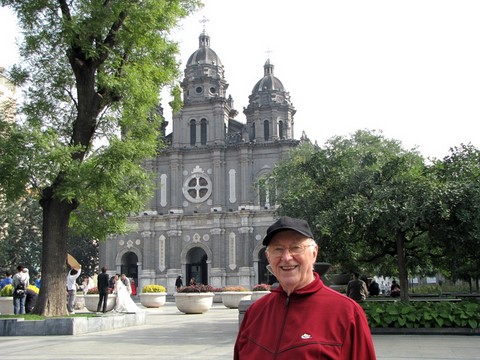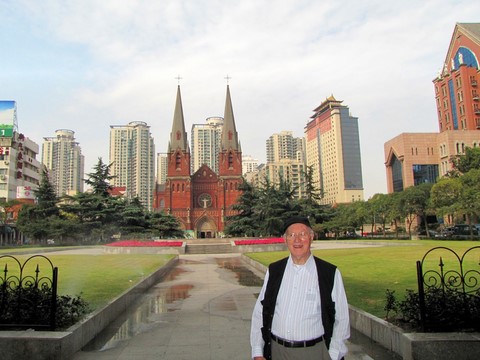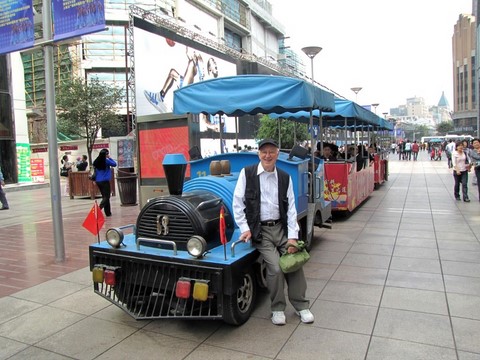 Pourquoi je suis devenu prêtre missionnaire ? Dieu a mis en moi cette semence qui a aboutit à ce que je suis. C'est l'héritage de Dieu et c'est l'influence de mes parents comme chrétiens. Il y a aussi une influence extérieure de prêtres et de religieux dans la famille Tremblay.

Dès mon bas-âge j'ai pensé à la vie missionnaire. Une photo prise aux îles Philippines de Léo Lamy, P.M.E., en soutane blanche et chapeau colonial qui ont attiré mon attention et éveillé mon esprit à la vie missionnaire. Je rêvais donc de devenir missionnaire et spécialement aux îles Philippines. Mgr. Edgar Larochelle, P.A., alors supérieur général de la Société des Missions-Etrangères, co-citoyen de maman, originaire de St Ferdinand d'Halifax (maintenant c'est St Ferdinand tout court, comté de Mégantic), a joué un rôle important en m'encourageant à continuer à prier pour la persévérance de mon idéal. Joseph Dupuis, P.M.E., missionnaire aux Philippines, étant revenu définitivement au Canada entretenait une correspondance avec moi.

Durant mon école primaire, j'étais un assidu à la messe quotidienne. J'étais un enfant de chœur. Notre demeure était à quelques mètres de l'église. À bonne heure le matin, je me rendais à l'église pour servir la première messe qui était à 6:00 du matin durant ce temps-là. Durant les premières années de mon cours classique, je me préparais à mon idéal de missionnaire. Je continuais à assister à la messe de tous les jours dans mon église paroissiale car je n'étais pas pensionnaire au Séminaire St Charles-Borromée de Sherbrooke.

J'étais intéressé à lire la revue des Missions-Étrangères, d'écouter à la radio les témoignages de certains P.M.E. le dimanche. La lecture de la vie de certains saints, entre autres, la lecture de la vie de Ste Thérèse de l'Enfant Jésus.

J'aimais à chanter et ce qui me touchait grandement, la chanson écrite dans les Cahiers de l'Abbé Gadbois : « Lettre de René Goupil à sa mère. » Les mots faisaient vibrer mon cœur. « Pour toi maman, ce petit mot... car ton René, ton petito... Là bas, là bas, missionnaire, au fond des bois, si loin qu'il soit, pense toujours, toujours à toi, ma bonne mère. » «Celui qui vient finir ce mot, ce n'est plus votre petito, votre René missionnaire, il s'est envolé vers le ciel jouir d'un bonheur éternel, o Sainte Mère. »

Pour m'aider à préparer ma vocation missionnaire, je m'imposais quelques petits sacrifices pour plaire à Dieu et aussi les offrir pour les missionnaires dans les champs de mission. Je récitais mon chapelet à tous les jours. Cette dévotion à Marie m'aidait à garder la ferveur, le feu qui brûlait dans mon cœur.

J'ai eu beaucoup de difficultés dans mes études. J'ai même eu la tentation d'abandonner tout. Les deux dernières années du cours classique m'ont été très pénibles. Ce qui me soutenait à continuer, c'était mon idéal de devenir un P.M.E., c'est-à-dire un prêtre et missionnaire dans la Société des Missions-Étrangères. Je suis sorti finissant sans diplôme, ce qui m'a marqué pendant toute ma vie missionnaire. Je me sentais inférieur à tous les autres. Je me sentais insécure.

J'ai envoyé une lettre au supérieur du Séminaire de Pont-Viau dans laquelle je demandais mon admission dans la Société des Missions-Étrangères. Une réponse affirmative m'a rempli de joie. J'étais accepté pour commencer une année de Probation dans la maison à Ste Foy, Québec.

L'année terminée, j'étais accepté au séminaire de Pont-Viau pour y commencer la théologie. À la fin de la 3ieme année, je recevais le Sacrement de l'Ordre des mains de Mgr. Martin Lajeunesse O.M.I., dans la paroisse de mon baptême en 1955. Ce fut une grande joie pour moi de devenir un P.M.E., membre de la Société des Missions-Étrangères.

Durant les années de ma formation à la vie missionnaire, la Société des Missions-Étrangères n'avait que 3 pays de Mission soit le Japon, les îles Philippines et Cuba. La Société des Missions-Etrangères avait dû fermer leur première Mission de Chine.

Une autre grande joie, ce fut ma nomination aux îles Philippines et mon rêve était réalisé. Il ne restait plus qu'à partir pour les Philippines à la fin d'Octobre 1956. Le 5 Décembre, je mettais pied à terre à Davao, Philippines.

Une joie à son comble fut la célébration de mes 50 ans au service de la Mission. J'ai passé la plus grande partie de ma vie missionnaire aux Philippines soit 42 ans sur le sol Philippin de 1956 à 1998.

Une nouvelle mission se présentait devant moi. J'arrivais à Hong Kong, Chine, au mois d'octobre 1998, et j'y ai demeuré 12 années jusqu'en 2010, le retour définitif an Canada.

Dans ma vie missionnaire, il y a plusieurs étapes : 3 départs
• départ pour les Philippines en 1956
• départ pour Hong Kong en 1998
• départ pour le Canada en 2010 pour y demeurer.

Il y a un temps pour chaque chose, un temps pour travailler, un temps pour prier et aussi un temps pour partir. (Qohelet ou Ecclésiaste).

Je me suis conditionné pendant un an, avant de laisser le groupe que j'aimais et qui m'a rendu heureux durant 12 années. Cette séparation n'a pas été facile comme toute séparation. Une séparation est toujours difficile à accepter mais il faut en faire le pas. Ce n'est pas la maladie qui m'a fait revenir au Canada, c'était l'âge. J'étais pour avoir 80 ans. Parfois je me posais la question à savoir si j'aurais dû continuer à Hong Kong encore pour quelque temps. Sur l'avis de quelques P.M.E. et d'autres personnes qui me disaient de revenir au pays avant d'être malade. Ils me disaient que ceux qui reviennent malades de leurs missions ont beaucoup de difficultés à se réadapter dans leur pays d'origine. C'est la raison pour laquelle je me suis décidé à revenir au pays.

Dans ma vie comme prêtre et missionnaire, il y a eu beaucoup de joie et de bonheur dans mon travail et aussi, il y a eu des moments de souffrances, des échecs, d'anxiété et d'épreuves. Ma détermination d'être fidèle à Dieu et à ma vocation m'a soutenu dans les moments difficiles et pénibles.

À Hong Kong, parmi les membres d'EF (pour Evangélisation de la Famille, groupe de domestiques Philippins dont j'avais la charge) mon ministère pastoral fut rempli de grandes joies et consolations lorsque je voyais la présence de Dieu dans les âmes qui m'étaient confiées. Plusieurs ont changé leur vie du tout au tout. Ce sont leurs témoignages durant les sessions de partage. Praise the Lord, Alléluia! Louanges à toi, Seigneur, Alléluia!

J'ai eu également des journées nuageuses mais le Seigneur m'a aidé de sa grâce à surmonter les difficultés, les épreuves qui me rendaient tristes et qui éprouvaient ma patience, mon endurance.

Le saint homme Job disait: « Si nous accueillons le bonheur comme un don de Dieu, comment ne pas accepter de même le malheur! »

« Les prêtres qui aiment à être prêtres sont parmi les hommes les plus heureux du monde. » (Andres Greeley, prêtre et sociologiste).

Selon la lettre de Paul aux Hébreux» : « Tu es prêtre pour l'éternité selon l'ordre de Melchisédech. »

Jean-Denis Tremblay, p.m.é.