Marcel Dionne
NECROLOGY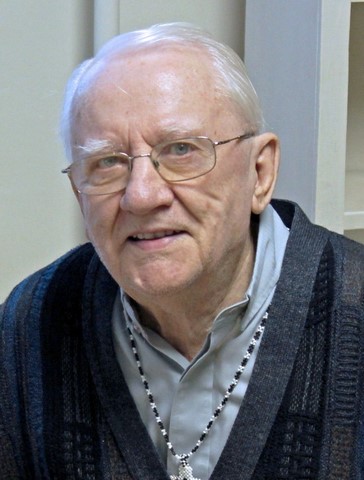 Marcel Dionne, p.m.é.
(1929-2021)


Father Marcel Dionne, a priest of the Foreign Missions Society, died in Montreal on November 3, 2021, at the age of 91 years and 11 months. Born in Isle-Verte (Rimouski) on November 7, 1929, he was the son of François Dionne and Isabelle Fraser. He did his secondary studies at the Seminaries of Mont-Laurier and Rimouski, then his theological studies at the Grand Séminaire des Missions-Etrangères of Pont-Viau. He was ordained a priest on June 29, 1956 and, after studying in Rome (1957-59) to obtain a License in Canon Law, he left for Argentina on September 24, 1963, where he worked as a missionary until 1984. In Argentina, from 1979 to 1984, he was Vicar General of the Diocese of Resistencia. He was also a missionary in Honduras (1993-2009) where he was a judge of the Interdiocesan Matrimonial Tribunal from 1998 to 2009.

In Canada, he was secretary to the Superior General and assistant to the General Secretariat (1959-63), a member of the Central Council and Secretary General (1967-73), and Econome General (1984-92). Later, he was responsible for Camp Robert in Tracy (2010-14). At the time of his death, he was living in retirement at the Central House.
He is survived by his missionary confreres, his sisters-in-law Noëlla Marquis, Francine Paradis and Simone Dumont, as well as nephews, nieces and many other relatives and friends.

A time of prayer will be held at the Central House of the Society of Foreign Missions, located at 180, place Juge-Desnoyers, Laval (Pont-Viau), H7G 1A4, on Friday, November 12, 2021, at 7:00 p.m.

His funeral will be celebrated in the same place on Saturday, November 13 at 2:00 p.m., followed by the placing of his urn in the columbarium. In his memory, donations to the Foreign Missions Society would be greatly appreciated.