Joao at Minami Sanriku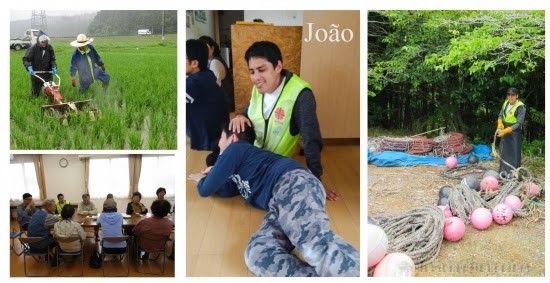 "Recently, with the help of my companions of the local Group of Japan, I had the occasion to visit and live during one week in one of the bases of Caritas Mínamisanriku, prefecture of Miyagi, in the Tôhoku. That was one of the most affected sectors during the tsunami of 2011. I was welcomed by the one in charge of the base M. Chiba and his team of collaborators.
Each day, they would bring me in different areas where volunteers were sent to help the local residents who were mostly elderly people. I shared in the sowing of rice, helped fishermen of molluscs and shells. I spent one day in a school which takes care of children in need of special care. A special event was my participation in a meeting in a community center located on one of the zones created to welcome families having lost their house.
M. Chiba told me that his actual motive was the creation of activities and spaces for the interaction between the residents among whom may lost everything, including members of their families. The Japanese most probably take more time to create community links. It is a process that has to be lived step by step. Eight years after that natural catastrophe, those persons still suffer from human and psychological damages that they have experienced. The local Church, through Caritas, wishes to continue to collaborate."
João Marinho Neto, lay missionary associate in Japan